A bit about Goulburn Off Road Carts
---
Located 13km outside of Goulburn in The Southern Tablelands, Phil Bonser *M.I.A.M.E., and his team at Goulburn Off Road Carts & Generators provides personal service, sales and parts, 12 hours a day and makes every endeavour to bring you the lowest prices around.
Our testing and assembly facility, 110 acres in all, ensures that all of our products are ready for you, with a written guarantee to ensure your satisfaction.
Phil has been involved in the automotive industry for almost 30 years, during which time he became involved in research into fuel saving devices.
For three (3) years Phil was an instructor in the Advanced Drivers' Training Club (now defunct) which was fueled by his passion for cars and in fact, anything mechanical and helping people find the right solution for their needs.
Phil started dealing in Twister Hammerhead buggies in 2003 and has specialised in sales, service and spare parts since then. Phil has provided parts and advice to buggy owners throughout Australia.
Phil also tries to encourage the kids of today to get their energy out through sport and especially quad bike and off road cart driving. He says that he believes it is a good clean, enjoyable thing to do, it can be done as a family activity or just you and a friend. It teaches about mechanics, engines and vehicle maintenance, plus it gives the kids that live on rural blocks something fun to do.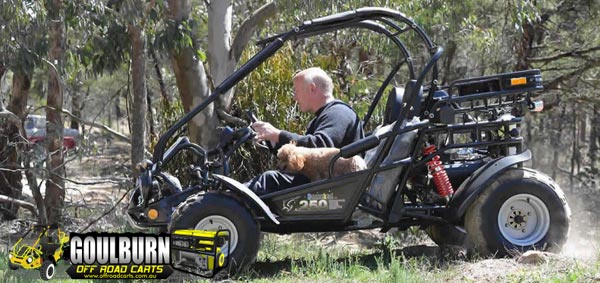 Phil Bonser in the Hammerhead 250 Offroad Cart from Goulburn Off Road Carts.
---
Goulburn Off Road Carts & Generators prefer to recommend these companies and their products.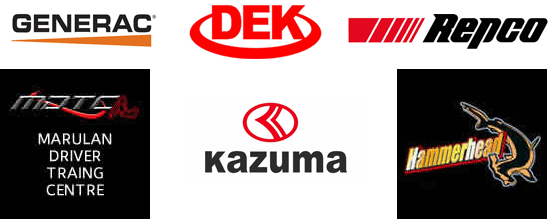 ---
We welcome you to visit our garage and sales centre, where you can have a chat, look over the products, and even take them for a test drive.
---

Call Phil At Goulburn Off Road Carts Now on: 02 4821 0397
FOR THE BEST DEALS AROUND
Talk to a trained technician who knows! 
8:00am – 8:00pm (Monday – Saturday)
---
Contact Phil for sales and service information on the best off road carts.